You are reading the work-in-progress second edition of R for Data Science. This chapter is largely complete and just needs final proof reading. You can find the complete first edition at https://r4ds.had.co.nz.
15.1

Introduction

Numeric vectors are the backbone of data science, and you've already used them a bunch of times earlier in the book. Now it's time to systematically survey what you can do with them in R, ensuring that you're well situated to tackle any future problem involving numeric vectors.

We'll start by giving you a couple of tools to make numbers if you have strings, and then going into a little more detail of count(). Then we'll dive into various numeric transformations that pair well with mutate(), including more general transformations that can be applied to other types of vector, but are often used with numeric vectors. We'll finish off by covering the summary functions that pair well with summarize() and show you how they can also be used with mutate().
15.1.1

Prerequisites

This chapter relies on features only found in dplyr 1.1.0, which is still in development. If you want to live on the edge, you can get the dev versions with devtools::install_github("tidyverse/dplyr").

This chapter mostly uses functions from base R, which are available without loading any packages. But we still need the tidyverse because we'll use these base R functions inside of tidyverse functions like mutate() and filter(). Like in the last chapter, we'll use real examples from nycflights13, as well as toy examples made with c() and tribble().
15.2

Making numbers

In most cases, you'll get numbers already recorded in one of R's numeric types: integer or double. In some cases, however, you'll encounter them as strings, possibly because you've created them by pivoting from column headers or because something has gone wrong in your data import process.

readr provides two useful functions for parsing strings into numbers: parse_double() and parse_number(). Use parse_double() when you have numbers that have been written as strings:
x

 

<-

 c

(

"1.2"

, 

"5.6"

, 

"1e3"

)


parse_double

(

x

)




#> [1]    1.2    5.6 1000.0
Use parse_number() when the string contains non-numeric text that you want to ignore. This is particularly useful for currency data and percentages:
x

 

<-

 c

(

"$1,234"

, 

"USD 3,513"

, 

"59%"

)


parse_number

(

x

)




#> [1] 1234 3513   59
15.3

Counts

It's surprising how much data science you can do with just counts and a little basic arithmetic, so dplyr strives to make counting as easy as possible with count(). This function is great for quick exploration and checks during analysis:

(Despite the advice in Chapter 7, we usually put count() on a single line because it's usually used at the console for a quick check that a calculation is working as expected.)

If you want to see the most common values, add sort = TRUE:

And remember that if you want to see all the values, you can use |> View() or |> print(n = Inf).

You can perform the same computation "by hand" with group_by(), summarize() and n(). This is useful because it allows you to compute other summaries at the same time:

n() is a special summary function that doesn't take any arguments and instead accesses information about the "current" group. This means that it only works inside dplyr verbs:

There are a couple of variants of n() that you might find useful:
n_distinct(x) counts the number of distinct (unique) values of one or more variables. For example, we could figure out which destinations are served by the most carriers:

flights

 

|>

 
  group_by

(

dest

)

 

|>

 
  summarize

(

carriers 

=

 n_distinct

(

carrier

)

)

 

|>

 
  arrange

(

desc

(

carriers

)

)




#> # A tibble: 105 × 2




#>   dest  carriers




#>   <chr>    <int>




#> 1 ATL          7




#> 2 BOS          7




#> 3 CLT          7




#> 4 ORD          7




#> 5 TPA          7




#> 6 AUS          6




#> # … with 99 more rows

A weighted count is a sum. For example you could "count" the number of miles each plane flew:

Weighted counts are a common problem so count() has a wt argument that does the same thing:

flights

 

|>

 count

(

tailnum

, wt 

=

 

distance

)
15.3.1

Exercises
How can you use count() to count the number rows with a missing value for a given variable?
Expand the following calls to count() to instead use group_by(), summarize(), and arrange():

flights |> count(dest, sort = TRUE)

flights |> count(tailnum, wt = distance)
15.4

Numeric transformations

Transformation functions work well with mutate() because their output is the same length as the input. The vast majority of transformation functions are already built into base R. It's impractical to list them all so this section will show the most useful ones. As an example, while R provides all the trigonometric functions that you might dream of, we don't list them here because they're rarely needed for data science.
15.5

General transformations

The following sections describe some general transformations which are often used with numeric vectors, but can be applied to all other column types.
15.6

Numeric summaries

Just using the counts, means, and sums that we've introduced already can get you a long way, but R provides many other useful summary functions. Here is a selection that you might find useful.
15.6.1

Center

So far, we've mostly used mean() to summarize the center of a vector of values. Because the mean is the sum divided by the count, it is sensitive to even just a few unusually high or low values. An alternative is to use the median(), which finds a value that lies in the "middle" of the vector, i.e. 50% of the values is above it and 50% are below it. Depending on the shape of the distribution of the variable you're interested in, mean or median might be a better measure of center. For example, for symmetric distributions we generally report the mean while for skewed distributions we usually report the median.

Figure 15.2 compares the mean vs. the median when looking at the hourly vs. median departure delay. The median delay is always smaller than the mean delay because flights sometimes leave multiple hours late, but never leave multiple hours early.
flights

 

|>


  group_by

(

year

, 

month

, 

day

)

 

|>


  summarize

(


    mean 

=

 mean

(

dep_delay

, na.rm 

=

 

TRUE

)

,
    median 

=

 median

(

dep_delay

, na.rm 

=

 

TRUE

)

,
    n 

=

 n

(

)

,
    .groups 

=

 

"drop"


  

)

 

|>

 
  ggplot

(

aes

(

x 

=

 

mean

, y 

=

 

median

)

)

 

+

 
  geom_abline

(

slope 

=

 

1

, intercept 

=

 

0

, color 

=

 

"white"

, linewidth 

=

 

2

)

 

+


  geom_point

(

)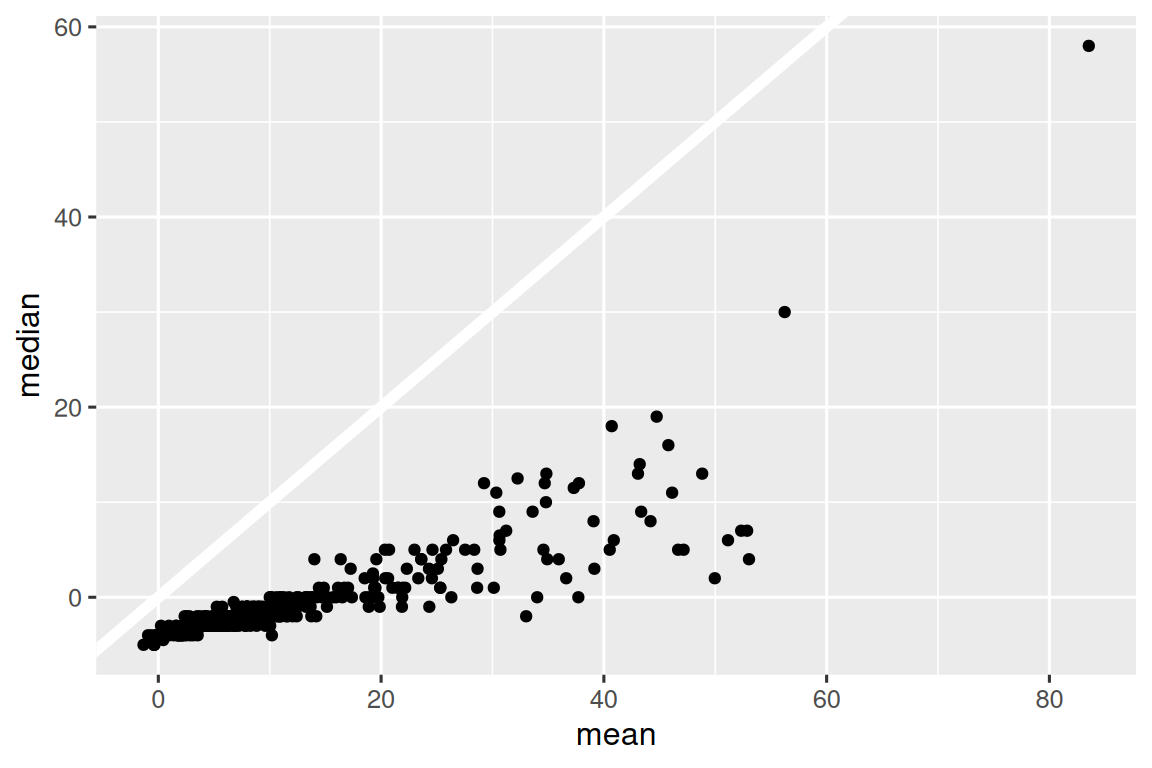 You might also wonder about the mode, or the most common value. This is a summary that only works well for very simple cases (which is why you might have learned about it in high school), but it doesn't work well for many real datasets. If the data is discrete, there may be multiple most common values, and if the data is continuous, there might be no most common value because every value is ever so slightly different. For these reasons, the mode tends not to be used by statisticians and there's no mode function included in base R2.
15.6.2

Minimum, maximum, and quantiles

What if you're interested in locations other than the center? min() and max() will give you the largest and smallest values. Another powerful tool is quantile() which is a generalization of the median: quantile(x, 0.25) will find the value of x that is greater than 25% of the values, quantile(x, 0.5) is equivalent to the median, and quantile(x, 0.95) will find the value that's greater than 95% of the values.

For the flights data, you might want to look at the 95% quantile of delays rather than the maximum, because it will ignore the 5% of most delayed flights which can be quite extreme.
flights

 

|>


  group_by

(

year

, 

month

, 

day

)

 

|>


  summarize

(


    max 

=

 max

(

dep_delay

, na.rm 

=

 

TRUE

)

,
    q95 

=

 quantile

(

dep_delay

, 

0.95

, na.rm 

=

 

TRUE

)

,
    .groups 

=

 

"drop"


  

)




#> # A tibble: 365 × 5




#>    year month   day   max   q95




#>   <int> <int> <int> <dbl> <dbl>




#> 1  2013     1     1   853  70.1




#> 2  2013     1     2   379  85  




#> 3  2013     1     3   291  68  




#> 4  2013     1     4   288  60  




#> 5  2013     1     5   327  41  




#> 6  2013     1     6   202  51  




#> # … with 359 more rows
15.6.3

Spread

Sometimes you're not so interested in where the bulk of the data lies, but in how it is spread out. Two commonly used summaries are the standard deviation, sd(x), and the inter-quartile range, IQR(). We won't explain sd() here since you're probably already familiar with it, but IQR() might be new — it's quantile(x, 0.75) - quantile(x, 0.25) and gives you the range that contains the middle 50% of the data.

We can use this to reveal a small oddity in the flights data. You might expect the spread of the distance between origin and destination to be zero, since airports are always in the same place. But the code below makes it looks like one airport, EGE, might have moved.
15.6.4

Distributions

It's worth remembering that all of the summary statistics described above are a way of reducing the distribution down to a single number. This means that they're fundamentally reductive, and if you pick the wrong summary, you can easily miss important differences between groups. That's why it's always a good idea to visualize the distribution before committing to your summary statistics.

Figure 15.3 shows the overall distribution of departure delays. The distribution is so skewed that we have to zoom in to see the bulk of the data. This suggests that the mean is unlikely to be a good summary and we might prefer the median instead.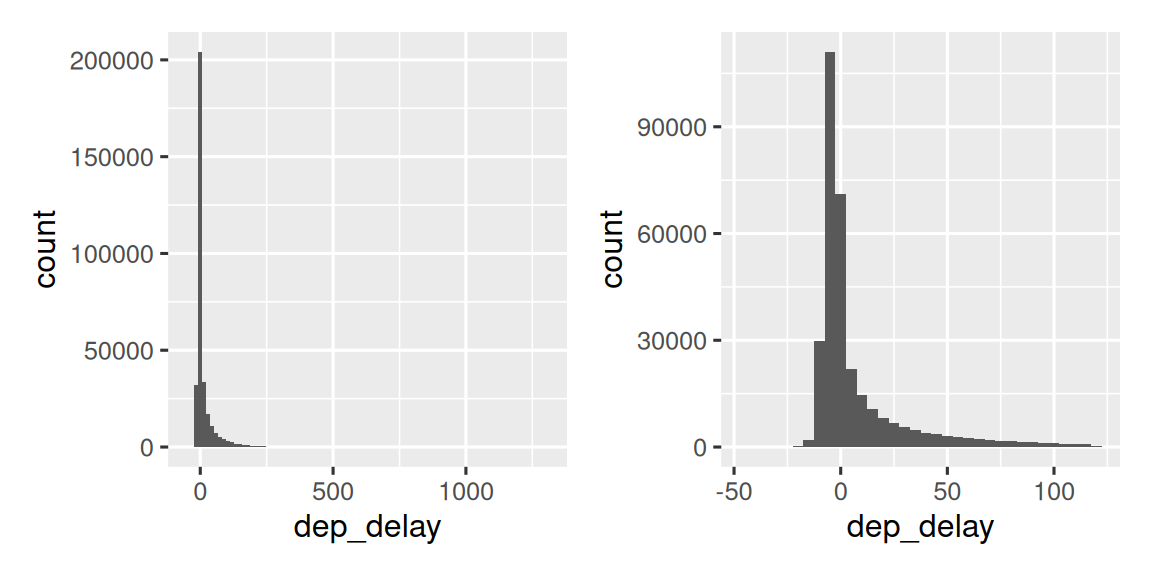 It's also a good idea to check that distributions for subgroups resemble the whole. Figure 15.4 overlays a frequency polygon for each day. The distributions seem to follow a common pattern, suggesting it's fine to use the same summary for each day.
Don't be afraid to explore your own custom summaries specifically tailored for the data that you're working with. In this case, that might mean separately summarizing the flights that left early vs. the flights that left late, or given that the values are so heavily skewed, you might try a log-transformation. Finally, don't forget what you learned in Section 4.5: whenever creating numerical summaries, it's a good idea to include the number of observations in each group.
15.6.5

Positions

There's one final type of summary that's useful for numeric vectors, but also works with every other type of value: extracting a value at a specific position. You can do this with the base R [ function, but we're not going to cover it in detail until Section 29.1, because it's a very powerful and general function. For now we'll introduce three specialized functions that you can use to extract values at a specified position: first(x), last(x), and nth(x, n).

For example, we can find the first and last departure for each day:
flights

 

|>

 
  group_by

(

year

, 

month

, 

day

)

 

|>

 
  summarize

(


    first_dep 

=

 first

(

dep_time

)

, 
    fifth_dep 

=

 nth

(

dep_time

, 

5

)

,
    last_dep 

=

 last

(

dep_time

)


  

)




#> `summarise()` has grouped output by 'year', 'month'. You can override using




#> the `.groups` argument.




#> # A tibble: 365 × 6




#> # Groups:   year, month [12]




#>    year month   day first_dep fifth_dep last_dep




#>   <int> <int> <int>     <int>     <int>    <int>




#> 1  2013     1     1       517       554       NA




#> 2  2013     1     2        42       535       NA




#> 3  2013     1     3        32       520       NA




#> 4  2013     1     4        25       531       NA




#> 5  2013     1     5        14       534       NA




#> 6  2013     1     6        16       555       NA




#> # … with 359 more rows
(These functions currently lack an na.rm argument but will hopefully be fixed by the time you read this book: https://github.com/tidyverse/dplyr/issues/6242).
If you're familiar with [, you might wonder if you ever need these functions. There are two main reasons: the default argument and the order_by argument. default allows you to set a default value that's used if the requested position doesn't exist, e.g. you're trying to get the 3rd element from a two element group. order_by lets you locally override the existing ordering of the rows, so you can get the element at the position in the ordering by order_by().
Extracting values at positions is complementary to filtering on ranks. Filtering gives you all variables, with each observation in a separate row:
flights

 

|>

 
  group_by

(

year

, 

month

, 

day

)

 

|>

 
  mutate

(

r 

=

 min_rank

(

desc

(

sched_dep_time

)

)

)

 

|>

 
  filter

(

r

 %in% c

(

1

, max

(

r

)

)

)




#> # A tibble: 1,195 × 20




#> # Groups:   year, month, day [365]




#>    year month   day dep_time sched_…¹ dep_d…² arr_t…³ sched…⁴ arr_d…⁵ carrier




#>   <int> <int> <int>    <int>    <int>   <dbl>   <int>   <int>   <dbl> <chr>  




#> 1  2013     1     1      517      515       2     830     819      11 UA     




#> 2  2013     1     1     2353     2359      -6     425     445     -20 B6     




#> 3  2013     1     1     2353     2359      -6     418     442     -24 B6     




#> 4  2013     1     1     2356     2359      -3     425     437     -12 B6     




#> 5  2013     1     2       42     2359      43     518     442      36 B6     




#> 6  2013     1     2      458      500      -2     703     650      13 US     




#> # … with 1,189 more rows, 10 more variables: flight <int>, tailnum <chr>,




#> #   origin <chr>, dest <chr>, air_time <dbl>, distance <dbl>, hour <dbl>, …
15.6.6

With mutate()

As the names suggest, the summary functions are typically paired with summarize(). However, because of the recycling rules we discussed in Section 15.4.1 they can also be usefully paired with mutate(), particularly when you want do some sort of group standardization. For example:
x / sum(x) calculates the proportion of a total.
(x - mean(x)) / sd(x) computes a Z-score (standardized to mean 0 and sd 1).
x / first(x) computes an index based on the first observation.
15.6.7

Exercises
Brainstorm at least 5 different ways to assess the typical delay characteristics of a group of flights. Consider the following scenarios:

A flight is 15 minutes early 50% of the time, and 15 minutes late 50% of the time.
A flight is always 10 minutes late.
A flight is 30 minutes early 50% of the time, and 30 minutes late 50% of the time.
99% of the time a flight is on time. 1% of the time it's 2 hours late.

Which do you think is more important: arrival delay or departure delay?

Which destinations show the greatest variation in air speed?

Create a plot to further explore the adventures of EGE. Can you find any evidence that the airport moved locations?
15.7

Summary

You're already familiar with many tools for working with numbers, and after reading this chapter you now know how to use them in R. You've also learned a handful of useful general transformations that are commonly, but not exclusively, applied to numeric vectors like ranks and offsets. Finally, you worked through a number of numeric summaries, and discussed a few of the statistical challenges that you should consider.

Over the next two chapters, we'll dive into working with strings with the stringr package. Strings are a big topic so they get two chapters, one on the fundamentals of strings and one on regular expressions.
---
ggplot2 provides some helpers for common cases in cut_interval(), cut_number(), and cut_width(). ggplot2 is an admittedly weird place for these functions to live, but they are useful as part of histogram computation and were written before any other parts of the tidyverse existed.↩︎